Once in a Blue Moon Contra Dance Prom
7:30pm-11:30pm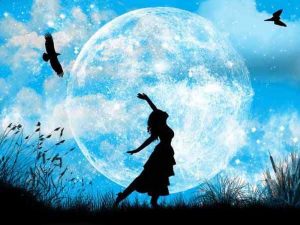 A blue moon and Greenfield's 6th annual contra prom, what could be better?
When: Saturday, March 31, 2018 7:30pm to 11:30pm
Where: The Guiding Star Grange, 401 Chapman Street,
Greenfield, MA 01301
Who: Hosted by The Friends of Greenfield Dance
Calling by: Gaye Fifer
Music by: The Cosmic Otters- Eric Schedler, Meg Dedolph, & Jonathan Whitall
Admission is $15.00 ($12.00 Students/Seniors)

* Dessert Potluck at the break, please bring something to share; bring a buck or two to throw in the basket to cover snacks that the organizers are also going to provide
* Portraits by Jessica Schultz and Ryan Carollo
This event is for all ages and no partner is necessary
No dress code, but fancy and fun is strongly encouraged
(Don't feel fancy? We'd rather see you than not, so feel free to don your daily dance duds)
Please bring clean, soft-soled shoes to protect the floor
Kindly do not wear perfume/cologne or other scented products
Questions? Contact events@friendsofgreenfielddance.org
A bit about the talent:
The Cosmic Otters make people dance. Starting with a solid rhythmic foundation of guitar and piano, they add inventive twin fiddle harmonies, and finish with juicy, pulsing accordion playing and tasteful percussion. Their tunes are from the British Isles and its relatives – Ireland, England and Scotland with side trips to Cape Breton and Quebec – but definitely their own, with an unshakable drive and playful improvisations that make dancers smile.
Gaye Fifer has been calling and teaching for many years. Her pleasant style and graceful teaching put dancers at ease and set the stage for a great dance experience. Admission is $15.00 ($12.00 Students/Seniors)
For more info, email us.