Hambo Workshop
4-6pm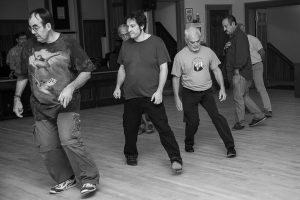 New to Hambo? This event is designed for you. 
Already know how to Hambo? Great! Experienced dancers are encouraged to come as ringers.
Looking to make a night of it? Why not get some dinner in Greenfield after the workshop and come back for the Moving Violations contra dance!
What is Hambo?
That feeling of spinning, counter-balancing with your partner, at times almost airborn – it just can't be beat!
It is no wonder that the Hambo is one of the most widely performed dances of Sweden and has long been popular among folk dancers of many nationalities. The Hambo contains two parts – moving forward side by side, inner hands joined, and a closed turn which is a little "tricky" in that the partners execute different, interlocking steps.
Apart from numerous historical versions, differences also exist in versions danced widely today–for example, the version danced in the Swedish Hälsingehambo competition tends to be slow and elegant with a relatively strong svikt (dip and lift) while that danced in American contradance venues is much faster with little svikt.
Challenging? Yes! But once mastered, it's a joy that lasts a life time! Live music for the workshop will be provided by Van Kaynor!
Admission: $10/person
After the Hambo workshop go have a leisurely dinner then come back and dance to The Moving Violations. At the break they will be playing Hambo tunes so that you can enjoy your new skills.
Who Are Jen and Laine?

Jennifer Brosious and Laine Harris first met as a "tour romance" through a professional folk dance troupe, the AMAN International Folk Ensemble, in Southern California many, many moons ago.
For decades they immersed themselves in Scandinavian dance culture, in particular the dances of Sweden & Norway. Taking advantage of numerous opportunities to study with master teachers and tradition bearers, they attended week-long dance camps on both the East & West Coast of the United States as well as traveling for workshops abroad.
One Summer, Jennifer had the opportunity to participate in the Hälsingehambo competition in Sweden with a Norwegian partner, who also happened to be King's Medal Winner. Competing with 1500 couples, they were among the few honored with a prize for their dancing.
Closer to home, Laine and Jennifer have taught Scandinavian dances, and the Hambo in particular, throughout New England, including 9 years running at the Dance Flurry held annually in Saratoga Springs.
They are fluid dancers and experienced teachers with a light-hearted sense of humor —you're sure to enjoy learning from them!